I am so happy you're here. You have just made the brave first step to become a new you. One who is calmer, stronger and more in control than ever before. This is a really exciting time to be you.
Let me guide you through what The Challenge is, the different parts and how they come together to benefit your mind, body & soul. 
Are you ready to push the reset button on your life?
The 35 Day Detox signature program
This is the detox you deserve, the one you have been waiting for. Profound change after 35 days of commitment. I'm proud of you for reaching this point and I'm excited to be your champion as you embark on this journey.
Profound change in only a few steps with commitment
Enrol Now & Start Today!​
The signature 35 Day Detox program
The 35 Day Detox Challenge is 100% online based and delivered via our e-Learning Platform on this website. As a result you do need to create a free account to link everything together. It also saves your progress to resume later! During the checkout process you will be asked to create your account or login.
Once your payment has been processed, access to The Challenge is provided immediately. We recommend you embark on your journey in line with the lunar cycle however the choice is yours. The main thing is you start The Challenge when you feel the time is right. Ready to take the next step?
Find us in Raumati South, ParaparaUmu, Kapiti Coast
Let's inspire you to a dig a little deeper...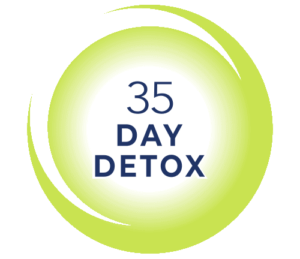 Copyright © 2022 35 Day Detox Ltd
The Natural Detox for YOUR Mind, Body & Soul. Raumati South, Paraparaumu, Kapiti Coast.
Powered by VIEWFULE