Suz is the Founder of the 35 Day Detox
My ambition is to provide a knowledge hub, where people can reconnect, be empowered to take control of their own wellbeing, and live happier, healthier lives.

The Journey that led to the 35 Day Detox
Burnt out in Dubai
I was a burnt-out executive living a busy corporate life in Dubai. Mentally and physically exhausted I needed help. Through some research, I started Yoga and a friend convinced me to study for a teacher training certificate. I felt the immediate benefits and quickly started teaching yoga after only six months.
Back home to New Zealand
Kicking and screaming I returned to my home country of New Zealand. I continued to eat well and wrote my own healthy recipes. I joined a yoga class and started training for a triathlon to connect with other women and improve my fitness. I set up my own yoga studio at my home on the Kapiti Coast and started teaching yoga to the ladies in my triathlon group.
Ready for the Triathlon
I finished 2nd in my age group, in my first long-distance triathlon event. As a result of this success, I knew I was on to something special. My Mind & Body were stronger than ever and I knew now was the time to start talking about it. By sharing my experience and knowledge at first with the women in my triathlon group, I felt deeply empowered and knew this is what I want and should do. Help others.
The 35 Day Detox is born
I continued to create well-researched recipes and decided to write the 35 Day Detox recipe book, 'Manifesting Change'. I started a women's circle, based on the teachings of my recipe book. It didn't take long for me to realise the book was changing people's lives and so I developed a program with a series of guided workbooks called the '35 Day Detox Challenge'.
Sharing with the world
This was the year the 35 Day Detox went global. I began sharing all my teachings online, to an incredible reception. People from all around the world were asking me questions about the program and eager to learn more. I also ran my first marathon in this year and completed over 500 hours of Yoga teacher training.
I can do this. The Ironman.
I felt so mentally and physically strong by this stage, I was confident I could compete in a full Ironman. I had never done this before and wasn't entirely sure what to expect. I finished the 3.8 kilometre swim, 180km cycle and 42km run in 16 hours, 59 minutes and 54 seconds. It was without a doubt, one of the greatest challenges I ever faced in my life. But I am so proud of myself for crossing that finish line. The 35 Day Detox is what gave me the tools to do so.
Mind, Body, Soul & Spirit
Through further study and refinements of the 35 Day Detox program, I had the most profound realisation.  Manifesting change in my life, the change that resulted in deep happiness and a new love for live, involved a few more pieces to the puzzle. Therefore I connected the elements of the program – Mind, Body, Soul, and Spirit.
Renewed Focus & Drive
These past few years has been challenging for so many. Mentally and physically, we have all been tested to our limits. Therefore, I focused my efforts on redesigning my website to make it easier for my clients to join and start feeling the benefits of the 35 Day Detox program as quickly as possible from anywhere in the world. As a result, I now have a powerful new e-Learning platform that works holistically and brings all the material together in one place so it's accessible for everyone.
Understand the aims and values of 35 Day Detox
35 Day Detox is a health and wellness company founded by me, Suz Stokes. I was driven by a passion and a strong desire to share the wealth of knowledge I gained on my own journey to mental and physical wellness. My priority was to create a 'heart led' business that was founded on three key pillars. These are:
My 35 Day Detox programs are all natural, helping people from all walks of life to truly manifest change and transform their lives. I provide the education, resources, and support so they can move forward to living a life with more spiritual connection, better control of their emotional wellbeing, and develop a positive relationship with exercise and food.
To Improved Health and Wellness
Education
I am an educator, a teacher, rather than a life coach. I believe education is the first step when it comes to breaking old habits and creating a framework for real change.
Spiritual Connection
My health and wellness programs also give people spiritual guidance and tools that help people feel more connected and live more mindfully.
Self-health Ownership
Through the 35 Day Detox Program, I want to empower people to take ownership of their own health. I teach people to listen to their bodies, connect with their minds and create the best version of themselves. 
Wellbeing
I believe that good health is about putting all the pieces in the puzzle together – or connecting the dots. If we have a sense of purpose, a sense of connection, and our mental and physical fitness needs are met, this is when we live with true wellbeing. 
It was their time to shine, now it's yours.
35 Day Detox is ABSOLUTELY incredible! I loved how easy it was to learn and implement and get some quick wins right from day one. I am naturally a fast paced person and have always struggled with overwhelm and burning out, 35 Day Detox helped me find habits I could release and new habits I could adopt. It was refreshing and invigorating, highly recommend!
Recently undertook the 35-day detox programme and was so impressed – with Suz and the results, that I immediately signed up for the next moon sequence. For anyone in the mindset to change, this is a brilliant program. The eating is easy to follow, the yoga is great and learning to breathe and meditate has helped me immensely. Suz is very down to earth but knows what she is doing, so for any type of healing required, I cannot recommend the 35-day detox highly enough.
Suz is intuitively connected to her students' needs. I first came to Suz to deepen my stretches, and she truly taught me the importance of balance (in my case strengthening my core, which amazingly was why I could not go deeper). The feeling of physical, emotional and spiritual balance after a session with Suz is indescribable and the euphoric lightness in spirit lingers for hours. Suz is an amazing teacher and a role model for any soul wanting to connect to their inner goddess. Much love to you Suz for finding your path and sharing it with the world.
I'm a French woman. I spent less than 2 weeks at Suzanne's place via an international exchange website. So, I lived like her during all my stay, with almost the same habits. It was an amazing experience. I've learnt a lot : habits, diet, sport (walking, yoga etc.),contact with the nature, psychologicals mechanisms etc. There are a lot of things to say … I'd arrived at Suzanne's place stressed, with a bad diet (lot of sugar), without energy. During my stay, I felt so much better, like an other person. Even today in France, her cure impacts my life. I'm 27 years old and I can say Suzanne is a woman who inspires me. She is wonderful and her program is totally affordable for everybody. Don't hesitate if you really want to improve your life. Thank you so much Suz, for everything, again :).
I have been consistently seeing Suz with weekly yoga sessions most of this year. I am incredibly grateful for her patience and helping me unpack so many layers, understanding me, health issues and finally breaking through some deep emotions. This gentle intuitive approach through yoga is exemplary, perfect for me and can highly recommend. Much appreciation and gratitude.
Find us in Raumati South, ParaparaUmu, Kapiti Coast
Let's inspire you to a dig a little deeper...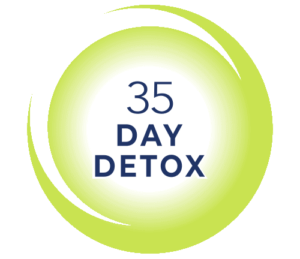 Copyright © 2022 35 Day Detox Ltd
The Natural Detox for YOUR Mind, Body & Soul. Raumati South, Paraparaumu, Kapiti Coast.
Powered by VIEWFULE