Our most common questions
Why is the program 35 days?
We believe that for sustainable change you need a longer period than 7-14 days.
Our program is based on a lunar cycle (from one moon to the next) which is 29 ½ days. We add a preliminary week at the start, this could be anything from 2 – 10 days depending on the date you start your program.
How do I know if this detox program is right for me?
The 35 Day Detox is right for you if you want something in your life to change, or you are in a place where you don't want to be. You could be experiencing feelings of overwhelm, tiredness, or even mental and physical pain.
Can I do a shorter or longer program?
The program cannot be cut short, but you can repeat it for up to 3 cycles (90 days).
Do I have to follow the program each day? How long will it take?
We recommend you set aside approx. 20 mins per day. The yoga/movement component is only 5-10 minutes per day. Plus, we recommend you commit to approximately one hour of video lectures each week to get the most out of your program.
Can I do the 35 Day Detox Challenge online?
Yes, the program is available as an e-Learning platform and is accessible via the Internet.
Do you offer one-on-one yoga sessions?
Yes, we offer one-on-one yoga sessions to clients local to our yoga studio at Raumati Beach. Click HERE to visit our Contact page to book your session.
Specific Dietary related questions
Is the recipe book included in the 35 Day Detox program?
No, the recipe book is not included in the course content, but it complements the program and can assist with long-term change.
Will the 35 Day Detox Challenge help me lose weight?
The 35 Day Detox is not a weight loss program, but if it is your goal to eat more healthily it is highly likely!
Will I need to eat a different diet during the 35 Day Detox program?
No, not a different diet, but we have the resources to help you if you want to make positive changes and improve your health.
Do I have to buy expensive foods and supplements?
You don't need to buy any expensive foods or supplements. Our philosophy is to eat local in-season whole food.
Do I need to give up coffee or wine?
No, but we suggest you choose something you feel you just can't live without EVERY day and eliminate it for two weeks to see if it makes a positive change.
Can I do the 35 Day Detox Challenge if I have a restricted diet?
Absolutely! The program fits in well if you are on a keto, low FODMAP, gluten-free, dairy-free diet amongst others.
Common Health cited questions
Can I continue to take other supplements while doing the detox program?
Yes, if you are taking 'every day' supplements –  such as a multi-vitamin, Vitamin C or Echinacea to name but a few. But if you have any concerns about specific or high dose supplements we would ask that you first consult with your physician.
No, you don't have to do yoga, but you do have to move each day. The yoga we teach is based on the level of fitness you currently have. 
Can I still do the detox program with an injury?
Yes, we will adapt the program to suit you. If you are unsure about anything, please consult your physician.
Is the 35 Day Detox suitable for over 50s?
Absolutely, it's a fantastic time in your life to start. If you have any questions or concerns about the content of the program, please talk to us. 
Can I do the 35 Day Detox program if I am pregnant?
Yes, there are many elements of the program that you can do. However, if you have not practiced yoga before, we do not recommend you start during pregnancy. If you are in doubt we ask that you consult your midwife.
Is it safe for me to do the program while on medication?
The 35 Day Detox services, programs and products are designed to help lower stress and improve your quality of life both mentally and physically. We would recommend you speak with your physician if you have any concerns so you receive a tailoured answer specifically for your medication and situation.
Can I do the 35 Day Detox if I am in training?
Definitely. It will help you let go of your limiting beliefs and reach your training goals.
Common financial related questions
What happens if I have a holiday planned during the program?
You are unlikely to get the full benefit of the program if you take a break part way through. It is best to do the program around any holiday commitments.
Do you offer a money-back guarantee?
We offer a 100% money-back guarantee if you decide to cancel the program during your first week. After this time, the program cannot be refunded but it can be restarted at a later date.
Find us in Raumati South, ParaparaUmu, Kapiti Coast
Let's inspire you to a dig a little deeper...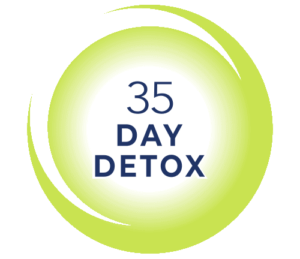 Copyright © 2022 35 Day Detox Ltd
The Natural Detox for YOUR Mind, Body & Soul. Raumati South, Paraparaumu, Kapiti Coast.
Powered by VIEWFULE